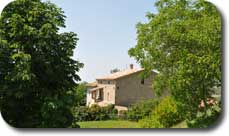 ...see the inside of the house
La "Casella" is a typical Umbrian farmhouse. It is built of stone and located in a particularly fortunate and quiet position. Surrounded by a very extensive garden, it faces westwards with a unique view of the austere profile of the castle of Giomici and its towers cutting through the sky, and over the valley below.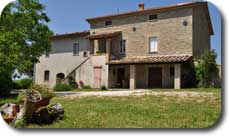 ...see the inside of the house
It can accommodate up to 8 persons.
The apartment has a large and traditional living room enriched with a big and characteristic fireplace; the living room has direct access to the kitchen and the roomy solarium terrace. The sleeping zone has four large bedrooms with king-size beds and two bathrooms.
© 2011 Villa di Giomici - Tutti i diritti riservati: Villa di Giomici - Via F. Rosati 12 - Loc. Giomici - 06029 Valfabbrica (Perugia) - Italia
Tel: +39 075 8038050 - Fax: +39 075 8038050 - Cell: +39 338 4610830 - E-mail: