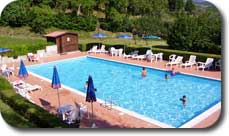 The Swimming Pool. Placed on a beautiful panoramic terrace and in a central position among the lodgings, the swimming pool represents a truly unique relax corner with an amazing view over the green Umbrian hills.
A lawn swing with a hint of antique style will most certainly provide entertainment for both children and adults alike.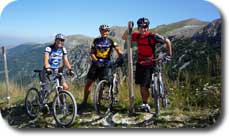 Mountain Bike. The best places are the ones you ride through on a bike, especially on a Mountain Bike! Those of you who love outdoor sports will be able to use the Mbikes we put at our guests' disposal and, if you're lucky, you'll be able to ride with bikers who very well know paths and tracks around the area.
© 2011 Villa di Giomici - Tutti i diritti riservati: Villa di Giomici - Via F. Rosati 12 - Loc. Giomici - 06029 Valfabbrica (Perugia) - Italia
Tel: +39 075 8038050 - Fax: +39 075 8038050 - Cell: +39 338 4610830 - E-mail: