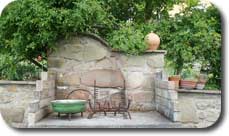 ...see the inside of the house
"La Torretta", located near the manor house, has a very peculiar structure characterized by a small tower that cannot be accessed from the apartment. The lodging is for up to three persons; it is built in stone and is surrounded by the same exuberant vegetation as the villa. It also has a wide private green area.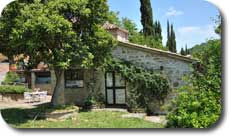 ...see the inside of the house
The house has a wide and safe fence for your four-legged friends; this way they will also enjoy the green heart of Italy.
Near the house there is also a swimming pool, just a few steps from the ancient medieval village and the castle. The house has a very nice living room with kitchen corner furnished with every comfort. From the kitchen you can access a balcony and enjoy a glorious view over the valley below. In the garden you can cook using a roomy stone built barbecue.
© 2011 Villa di Giomici - Tutti i diritti riservati: Villa di Giomici - Via F. Rosati 12 - Loc. Giomici - 06029 Valfabbrica (Perugia) - Italia
Tel: +39 075 8038050 - Fax: +39 075 8038050 - Cell: +39 338 4610830 - E-mail: