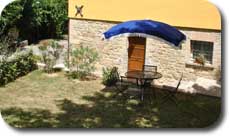 ...see the inside of the house
"L'Oleandro", located inside the manor house, represents a small but comfortable shelter during hot summer days. Located in what used to be the cellar, it can accommodate up to 3 or 4 persons. Finely decorated by Mrs. Umberta, it is a little jewel of simplicity and tranquility.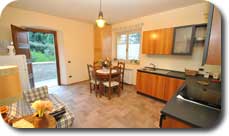 ...see the inside of the house
It is very close to the swimming pool and to the ancient medieval village and the castle. It also has a small private green area.
The apartment consists of a cosy living room with kitchen corner and of a large bedroom with a king-side bed.
© 2011 Villa di Giomici - Tutti i diritti riservati: Villa di Giomici - Via F. Rosati 12 - Loc. Giomici - 06029 Valfabbrica (Perugia) - Italia
Tel: +39 075 8038050 - Fax: +39 075 8038050 - Cell: +39 338 4610830 - E-mail: